Learn about AeroTread® SUV Running Boards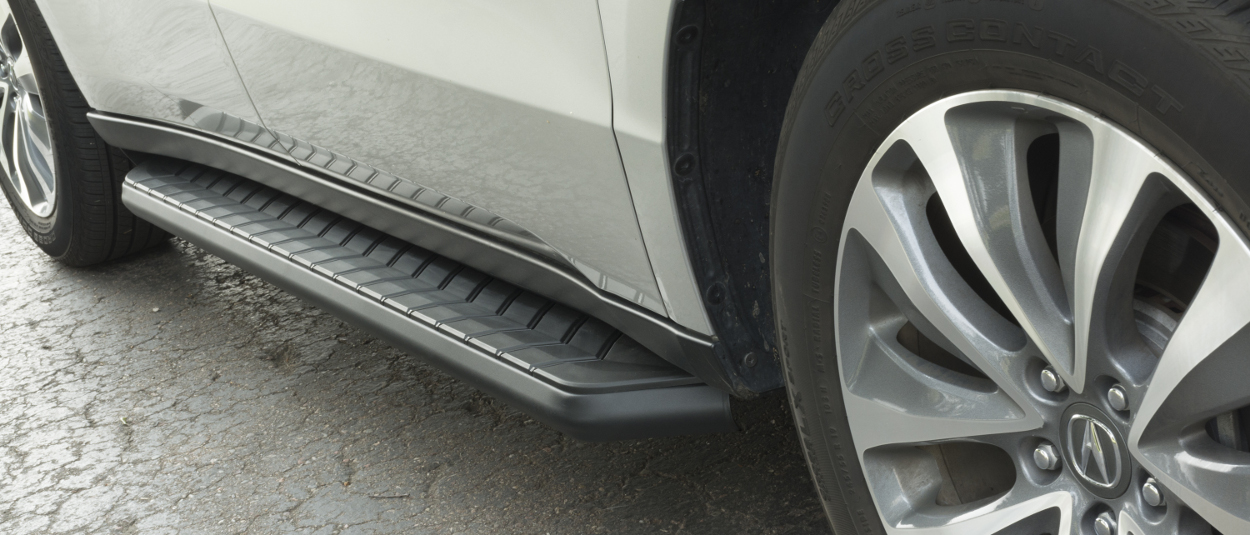 Sleek, contoured design for the modern SUV
Unique, dual aluminum-stainless steel construction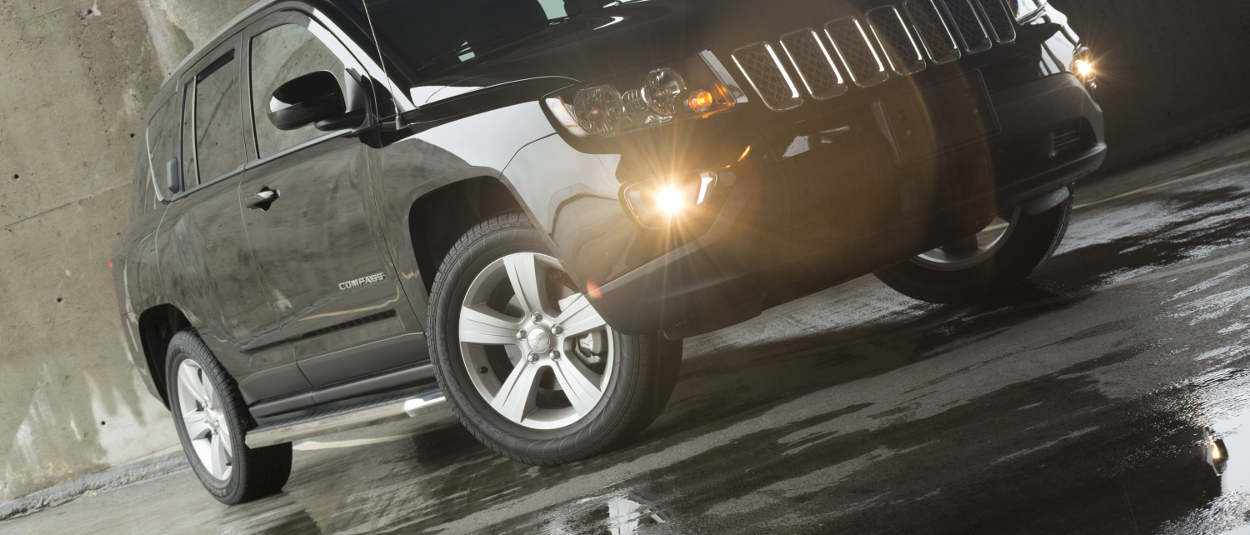 SUV running boards engineered for style
You don't drive a modern SUV because you have to. You do it because it's an experience unlike any other. To complete that experience, you need running boards that specialize in style and longevity.
ARIES AeroTread® SUV running boards are uniquely engineered for both, featuring a dual-construction, a sleek design and a no-fuss installation. They provide a dependable step up into your SUV, while complementing its superior style.
Select Your Vehicle
AeroTread® SUV running boards in motion
Sleek, long-lasting build
AeroTread® running boards for SUVs are subtle, sleek and sexy with their tapered, contoured ends. They also feature a lightweight, highly rust-resistant construction for true longevity.
Hassle-free install
Each set of AeroTread® running boards is intended for a unique SUV application, using vehicle-specific brackets. Installation requires no tedious vehicle modifications, and virtually all models install with no drilling.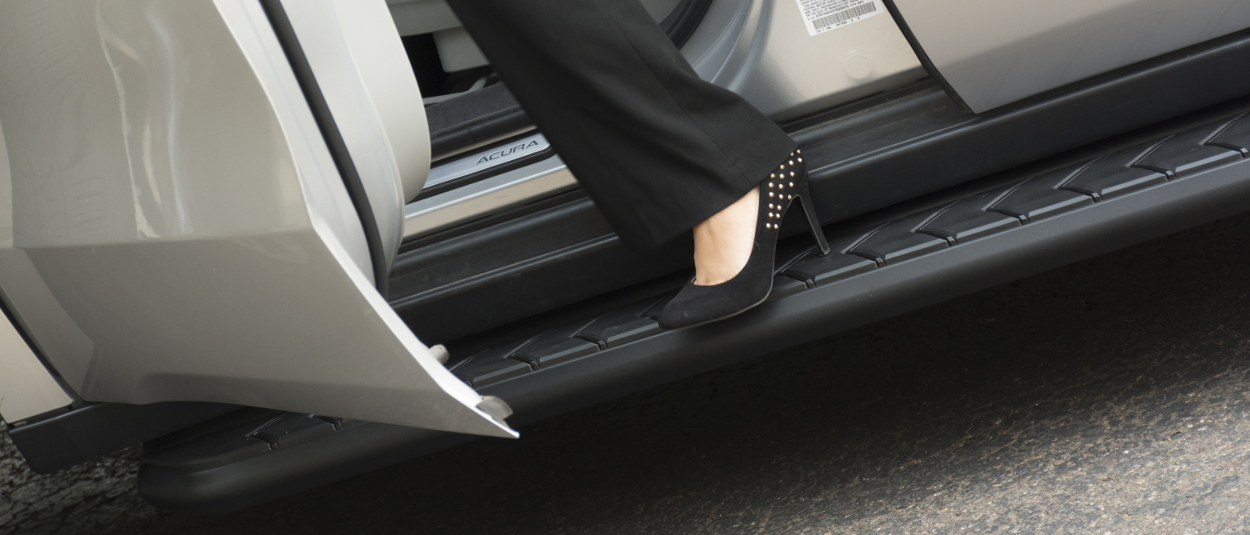 Uniquely tailored for modern SUVs
First impressions are everything, and AeroTread® running boards don't disappoint. Everything about them -- from their curved, contoured trim to their chevron-patterned step pads -- is designed to reflect the elevated style of today's SUV.
The vehicle-specific lengths of these SUV running boards and their tapered trim piece allows them to contour to the vehicle's body lines, giving it a subtle but unmistakable touch of urban, aftermarket style.
Select Your Vehicle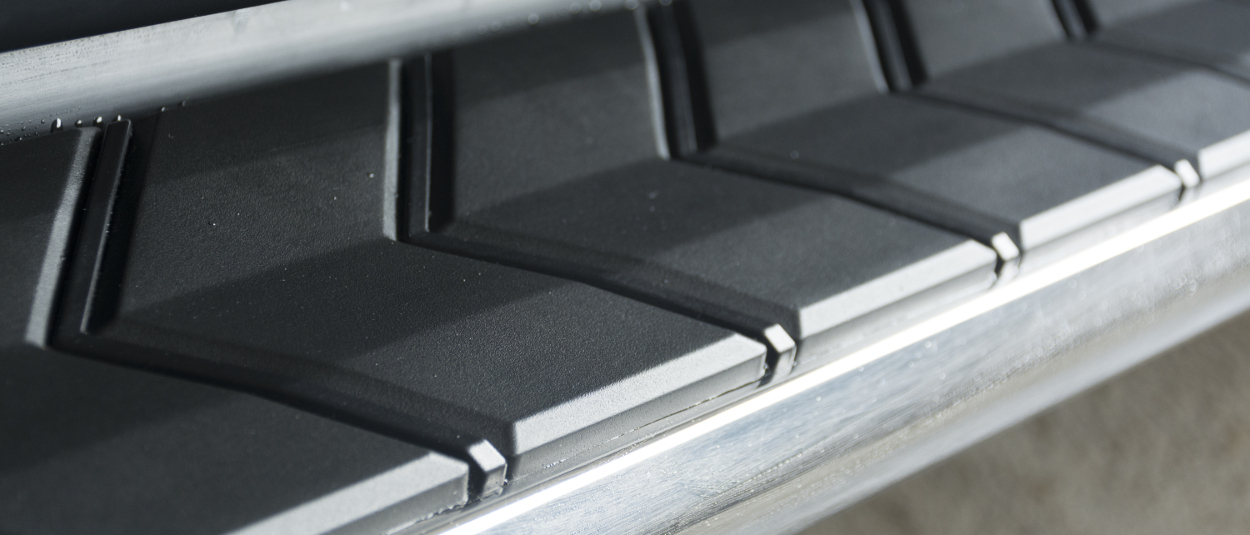 Intuitive, lightweight, rust-free build
Fuel economy is extremely important for today's SUVs, and AeroTread® running boards are made to uphold a high level of efficiency. This is accomplished through their unique dual-construction.
The base of AeroTread® SUV running boards is an extruded aluminum core that provides rigid strength and a lightweight fuel-efficient design. The board is then finished with a stainless steel trim piece, providing its sleek style and maintaining excellent corrosion resistance.
Select Your Vehicle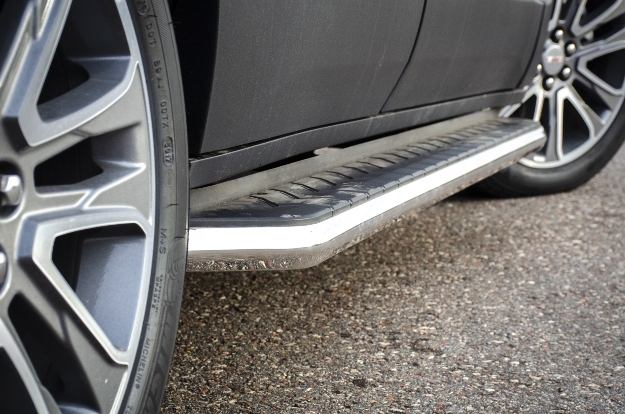 Two distinct finish options
To let you accent your sport utility vehicle with a perfectly seamless look, AeroTread® running boards are available in two finish options.
Our black running boards feature a carbide black powder coat finish over 201 stainless steel, adding a sleek, integrated look. Our polished stainless running boards are made from 304 stainless steel and offer a bright flash of an accent with their mirror-like finish.
Full-length, non-skid treads
For safe, comfortable footing each time you step into your SUV, AeroTread® running boards feature a generous 5" width. The chevron tread pattern provides non-skid traction and extends the full length of the boards to give you a solid step wherever you need it.
AeroTread® SUV running boards also feature a flat tread profile, offering a more comfortable surface for your foot. The treads are made from tough, hardened plastic, ensuring long-lasting wear and UV resistance.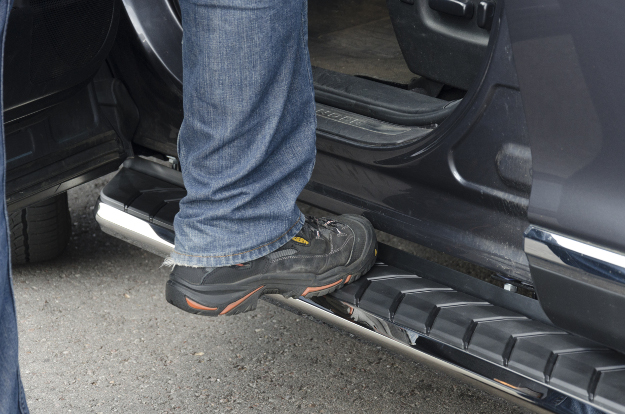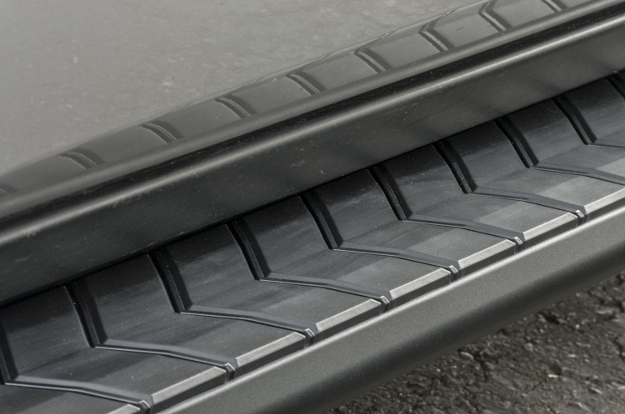 Integrated splashguard
AeroTread® running boards are designed to fully integrate with your SUV, mounting high-and-tight against the rocker panels and promoting a stylish, original equipment feel. As such, each set is equipped with built-in splashguards.
Along the back side of the running boards, the splashguards help close any gap between the vehicle rocker panels and the steps. This allows the running boards to function like a true extension of your SUV and helps shield the steps from rainwater and debris.
Easy installation
Installing aftermarket running boards on your SUV should be a walk in the park. With AeroTread®, it is. They feature a track mounting system with vehicle-specific brackets, allowing virtaully all models to be installed without any drilling required and making it easy to adjust them forward or backward to perfectly suit your vehicle layout.
AeroTread® SUV running boards install with high-strength steel brackets to provide a rigid step, and the brackets are covered in a powder coat finish for long-lasting rust resistance.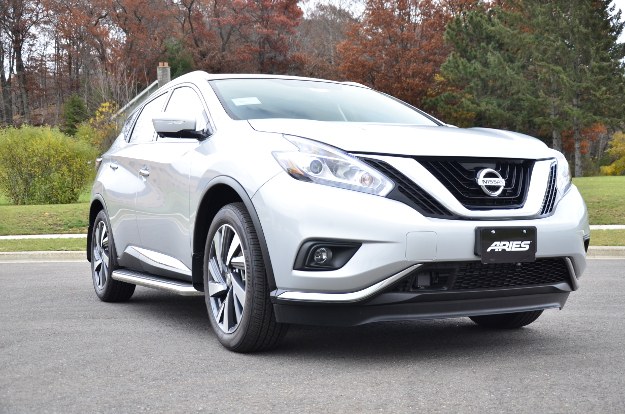 Back to AeroTread 5" Running Boards