ARIES Continues to Crank Out Unique Jeep JK Accessories
New Additions Include HD Tire Carrier, Fender Liners and LED Light Mounts
New Additions Include HD Tire Carrier, Fender Liners and LED Light Mounts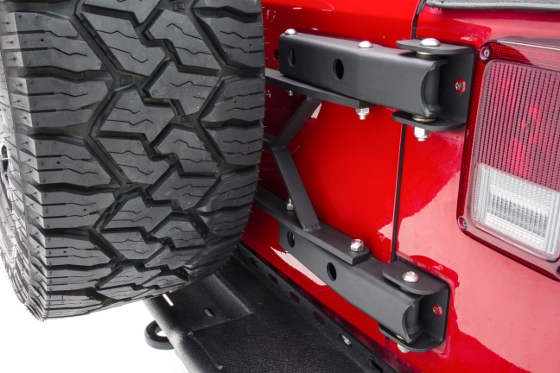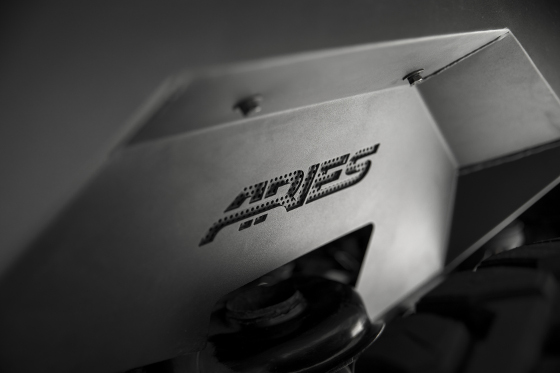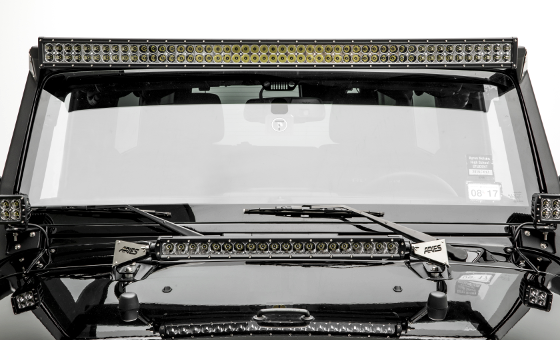 Eau Claire, WI -- June 22, 2017 -- ARIES, a fast-paced marketer and innovator of truck, Jeep, SUV and CUV accessories, has already released several new products for Jeep Wrangler JK in 2017, including our TrailCrusher™ bumpers, TrailChaser™ bumpers and several accessories for each. But we're not done. As an authority of the Jeep aftermarket, we are introducing four additional accessories, all uniquely designed for the Jeep Wrangler JK.
Our new Jeep heavy-duty spare tire carrier #2563000 is perfect for the off-road-style Jeep JK, featuring a fully adjustable design to accept larger tires up to 37" in diameter. The tire mount and included third brake light can both be adjusted to eliminate any interference issues. The HD tire carrier also replaces the factory Jeep JK door hinges, strengthening the rear door to hold off-road tires.
Next, our Jeep inner fender liners #1500350 are the ideal complement to our popular Jeep fender flares, offering maximum protection for the engine compartment. The fender liners are constructed from powder-coated aluminum, not plastic, providing additional strength without the risk of rust. The liners install in conjunction with ARIES front fender flares #1500201, and they offer better protection against rocks, mud and other debris.
ARIES Jeep roof light mounting brackets are a great way to add our new LED lights to the Jeep JK. The brackets feature powder-coated stainless steel construction for maximum rust resistance, and they come with stainless steel accent plates to protect the light bar mounting points from tampering. The Jeep roof light brackets #15911 include two brackets for mounting the ARIES 50" double-row light bar #1501278, and the #15914 includes a crossbar for attaching several smaller LED work lights.
Also for lighting up the Jeep JK, the new ARIES hood light mounting brackets #15912 attach to the Jeep Wrangler hood with no drilling required, and they accept the ARIES 20" single-row light bar #1501262. They are built with the same rust-free powder-coated stainless steel construction as the roof light brackets, and they come with stainless steel side plates for an added flash.
To see videos of these new ARIES Jeep Wrangler products or to become an ARIES dealer, click here.
---
About ARIES: ARIES, a CURT Group brand, is a fast-paced marketer and innovator of truck, Jeep, SUV and CUV accessories. From automotive enthusiasts to professional builders, our products are built for the champions of individualism, innovation and attitude. We offer the perfect combination of unique style and durable construction, specializing in custom-fit grille guards, bull bars, side bars and running boards, as well as Jeep Wrangler accessories. ARIES products are made vehicle-specific for a custom fit, and they are available for a wide variety of makes and models sold in North America.
About CURT Group: CURT Group is a leading sales, marketing, engineering and distribution company of towing products and truck accessories for all types of vehicles, from passenger cars to commercial trucks. Our family of brands includes CURT, ARIES, LUVERNE Truck Equipment, RETRAC and UWS. We are a team of more than 1,000 associates world-wide, with manufacturing plants in Wisconsin, South Dakota, Florida and the Philippines, and 10 regional warehouses across the United States and Canada. We stand for EXCELLENCE in our products and our associates. We aspire to be the industry LEADER by recognizing that the customer is KING and our associates are our greatest ASSET.