Headache Racks
For the heavy-duty hauler and hardworking trail blazer alike, a headache rack is a must-have truck accessory. It doesn't take much for a 2x4, steel pipe or other loose cargo to put a good-size crack in the rear window of your truck cab, especially when you stick to the off-road trail more than the paved road. ARIES headache racks offer hardy construction, a quality finish and a universal design to make sure your truck is ready for the trail ahead.
Solid construction
Made from 1" x 2" carbon steel tubing, ARIES headache racks provide excellent protection for your truck cab, from both impacts and sun damage. The tubular design offers a solid frame structure, while their carbon steel construction supplies superior strength. ARIES headache racks bolt directly to the walls of the truck bed to create a reliable barrier between the bed and the cab. The louvers of the headache rack span the full length, blocking direct sunlight and keeping your cab cooler throughout the work day. The louvers are also made of high-strength carbon steel, allowing them to easily protect the rear of the cab from loose cargo.
Tough finish
To maintain a sleek appearance and withstand the wear and tear of the elements, ARIES headache racks are coated in a semi-gloss black powder coat finish. The powder coat easily resists rust and UV damage for a long-lasting shine, and it provides a thick skin against chipping and scratches to resist abrasions from cargo.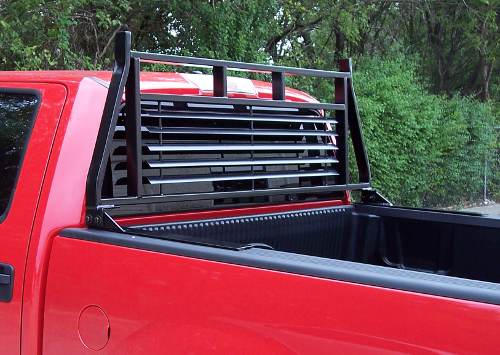 Easy installation
Installation of the ARIES headache rack is quick and easy. It comes with all necessary installation hardware to quickly and securely bolt onto your truck and has a universal design to complement your truck's style. Our headache racks comes in universal sizes to fit a variety of full-size pickup trucks, including certain Dodge, Chevy and Ford pickups, and they are compatible with cross-bed tool boxes for maximum functionality.
When your pickup truck is more than just a show horse, ARIES has you covered. We understand that 4-wheel drive means more than goofing off in the mud. When you have a job to finish and a workhorse to drive, an ARIES headache rack is a reliable tool in your belt.