Easily attached or detached with the pull of a pin
When you want your truck to be the perfect combination of civilized class and wild ferocity, ARIES removable mud flaps are the truck accessory of choice. They allow you to transform your truck or SUV from road-worthy to off-road-ready and back again in seconds because they feature a unique removable design. ARIES removable mud flaps are tough, easy to use and offer universal application.
Quick-release mounting system
ARIES mud flaps are not like your factory mud flaps or any other aftermarket mud flaps out there because they are designed for easy removal. Rather than permanently bolting onto your truck's frame, they have a quick-release, pull-pin removal system that allows them to literally be uninstalled from your vehicle in mere seconds. If you're heading out to the trail, the mud flaps can quickly be attached, using the simple quick-release retainer pin, to convert your truck for the off-road. When it's time to get back to civilization, the quick release system allows them to be detached and stored at a moment's notice.
Easy installation
Each mud flap mounts onto the frame of your truck using a universal mounting bracket. The bracket bolts onto the frame with four bolts and provides a secure base into which the mud flap hanger and quick-release pin can insert. Once the brackets are bolted on, installing and removing the mud flap is simple.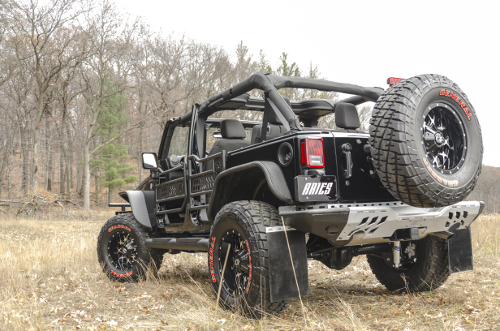 Universal application
ARIES removable mud flaps come with 12" x 18" and 18" x 18" flaps and can be mounted on virtually any truck or SUV. The mounting brackets are made to be universal and can be attached directly to the frame of the vehicle with just four bolts. For the Jeep Wrangler JK, no drilling is required during installation, and the brackets mount onto the frame using the factory bumper hardware. To match the unique tire width and wheel offset of your vehicle, ARIES removable mud flaps include a 22" hanger that can be trimmed to virtually any length, and the bolt holes to attach the rubber flap to the hanger are slotted to allow for fine adjustment.
Trail-ready construction
ARIES removable mud flaps are made to be able to take a beating. The hangers and mounting brackets are constructed from high-strength carbon steel and are finished in a semi-gloss black powder coat finish to resist rust, grime and general wear and tear. The flap itself is made from thick black rubber to withstand heavy abrasions and to shed water with ease.
Whether you count yourself king of the asphalt jungle or lord of all dirt-road creation, add a little beef to your truck's behind with ARIES removable universal mud flaps.