Give those off-road tires the recognition they deserve
Whether it was the thrill of climbing over ten-ton boulders or your slightly unhealthy obsession with mud, you bought a Jeep -- and not just any Jeep. You bought a Wrangler, and now you eat, sleep and breathe off-roading. ARIES Jeep fender flares add style and off-road readiness to your mud-eating machine, featuring a 4" width and custom contour bends. With lightweight aluminum construction and a textured powder coat finish, these fender flares are made to go off road.
Lightweight aluminum build
Hardened, T6 aluminum construction allows ARIES fender flares to be strong, lightweight and rust-free. We also cover them in a durable, textured black powder coat finish to easily hide scratches, dirt and other threats on the trail.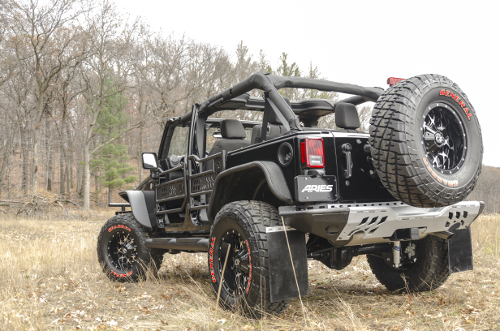 Solid installation
The 4" width and vehicle-specific contours of ARIES Jeep fender flares offer a precise fit, adding style, utility and accommodating the off-road ride. The flares bolt directly onto the body, replacing the factory flares, and they can accept LED side markers for maximum safety on and off the road (some drilling may be required).
Fender flare side markers
To make your mudding machine safe on the trail and on the road, ARIES Jeep fender flare side markers offer bright, DOT-approved LED light. When installing ARIES Jeep fender flares, the OEM side markers on your Jeep must be removed. However, you don't have to play the outlaw just to add some flare to your ride. ARIES Jeep side markers splice directly into the existing factory wiring harness of the OEM side marker and are able to be channeled through the frame of the fender flares to keep the wires well-protected from moisture, grime and road debris.
You didn't buy that Jeep just to park it in the garage, and you certainly didn't buy those off-road tires to keep them hidden. Give your off-roader the recognition it deserves with ARIES Jeep fender flares.